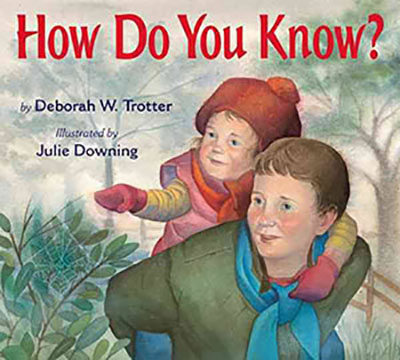 There are some things we just know. But how do we come to know them?
When Polly wakes up one morning, she finds her world covered in fog. She can't see the apple tree or the duck pond or the horse barn. Mama says they're all still there, but how does she know? Together, Polly and Mama set off to find the familiar landmarks of the farm, and along the way Polly discovers there are some things she just knows, too.
Soft, evocative watercolor paintings bring to life this gentle story about a day of simple discoveries and a child's growing confidence in her perception of the world.


How Do You Know?
ISBN-13/EAN: 9780618463435;
ISBN-10: 0618463437
Clarion Books, 2006
Age 4-6 
Available for purchase at many sites online.

Reviews

"A foggy morning is a wonderland for a curious child in Trotter's debut. Polly is disturbed when she awakens one morning to see that her familiar world has disappeared. Her wonderfully engaged Mama explains to her that fog is 'damp air that you can see,' and accompanies her on an early morning walk of discovery. Each time they stop at a familiar landmark, Polly looks back at the previous one and remarks that it's gone. Her mom reassures her it's still there, wherein Polly asks, 'How do you know?' The answer is always, 'I just do.' Polly gets her own chance to respond in kind when her loving mother tucks her in bed that night. How does she know her mom loves her? She just does. . . Downing's watercolor illustrations perfectly evoke a foggy morning with smudged and grayed-out backgrounds and dew settling on the vegetation. A heartwarming look at the bond between an inspiring mother and her child as they share the natural world with each other." — Kirkus Reviews

"…if you want a picture book about fog – and there are not many out there – this one will do nicely." — School Library Journal

"This quiet book does a nice job of explaining a bit of natural phenomenon and then linking it to emotions." — ALA Booklist

"The luminous illustrations and the gentle affirmation of the child's perception of the world are beautifully done."– Yellow Brick Road

"In a quietly evocative picture book, Trotter examines the nature of things we cannot see, using the vehicle of fog. . . Mama does more than reassure, though, as the pair traverse the farm together, seeking for and finding the swing in the apple tree, the pond with its ducklings, the barn with its horses. [Polly and Mama] travel from place to place as the story travels from day to night with reassuring predictability until it's bedtime. Polly practices what she has learned when she tells Mama that she knows she is loved. 'How do you know?' Mama asks. 'I just do,' Polly replies. Downing's watercolor illustrations are the perfect medium for the foggy morning, adding to the cozy feel of this reassuring book." — Maine Libraries Discussion List

"This book nicely plays into the notion that children need reassurance that their world will stay the same, and that their parents' love is everlasting. The artist has a soothing style, using soft, pretty watercolors. She skillfully makes the fog look very real, and incorporates muted shading throughout. This is a sweet bedtime book that both parents and children will enjoy." — Book Loons